Tutorial on advertising your business on Social media
In the digital era, business competition is high and your competitors are using advanced marketing and advertising strategies to make their business number one in the market. In this war, it is essential to make a unique advertisement plan for making the business stand successfully. For that, one of the excellent ways to make a good connection between potential customers and fans are 'Social Media'. You may miss out on an audience that is ready and willing to connect with your brand or service if you do not have a presence on the main network.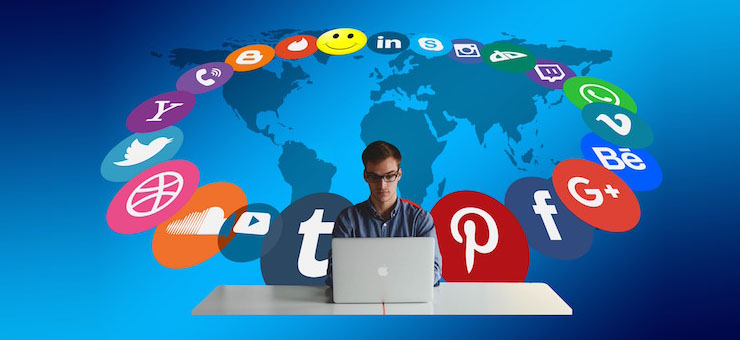 If Social media advertisement is done in the right way then it can make the brand skyrocket. In this blog, we will discuss some amazing and effective key points of social media advertising strategies which help you to make your business successful in the market.
• Work with a plan:
All the good business strategy begins with a good plan. For a small business, social media marketing is not different. It is very easy and simple to use and you can get started with natural posts for free, it may be appealing and aesthetic to jump in and just start posting. But, if you don't have any plan then you haven't any other way through which you can know that what you are trying to gain or achieve with the social media posts. Also, you fail to determine whether you get there. You should take the time to create an aesthetic social media plan will ensure that all the efforts for social media assist the specific business goals.
• Discuss and think about the best platforms:
Do not make any guess or supposition about the audience where they spend their time online. If you are thinking to target Millennial then, your instinct may tell you that you should focus on Snapchat or Instagram over choosing Facebook. But, you are wrong with your assumption as according to the recent survey, 82% of millennial are still using Facebook. In that case, must keep in mind that you can take help of different social channels to attain different audiences or to meet different business goals.
• Build Your Monopoly:
Those who are working in marketing or sales are curious about the success strategies for such candidates LinkedIn is the first priority. In that case, it is recommended to make yourself visible on LinkedIn. As focusing on spreading audiences and engagement on LinkedIn also boosts conversion and sales rate which makes it leading toward an attractive chance for collaboration.
• Understand Your Audience:
Social media for small business will let you target your audience. In that case, you need to know about your audiences. By accumulating data on your recent customers and then going deeper with social media analytics, you can easily establish a genuine picture of who is buying from you and who are already interrelating with you online. After that, you can re-visit your planning for a social media plan to embrace the medium to achieve more people just like them.
• Make Relationship With Customer:
One of the unique and effective advantages of social media compared to other marketing channels is that it permits you to talk directly to the followers and customers. Rather than asking for a sale, you can build a relationship over time. You can easily interact and reply to the customers who are engaged with your content or ads. This activity helps you to build faith and form the beginner stages of a pleasing customer relationship.
• Show Appreciation:
Last but not least, Social media is providing you a great opportunity for you to connect with the audience who supported and helped you in your business. You can appreciate them via social media in a meaningful way. Social media is only the way to recognize and thank them for assisting you along the way for the most important people in your business world. You can appreciate or thank them by giving recognition to their tweets and post such as: follow, like as well as share their messages. It will be your way to say thank you to them. It will make a good impression to your supporter so that they continue their efforts to support you.
Conclusion:
It doesn't matter how small or how big your business is. Social tools will definitely help you to connect with your audience in a better way. It will also help you to reach your potential customer as well as boost the awareness of your business and brand. If you want to get more effective social media marketing strategy for your business then you can get the help of Digital Marketing experts.